Roasted Red Potato Salad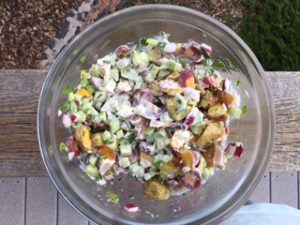 Makes about 8 cups
Gluten, dairy and Soy free
Roasting the potatoes first gives this added flavor and is a nice twist from the traditional potato salad. This recipe can also be egg free if you use an egg free mayo.
Ingredients
12-15 small to medium size Baby red potatoes (not the large ones) or baby gold potatoes or a mixture (buy organic white potatoes)
3 T. avocado oil
Dash sea salt and pepper
2-3 stalks celery
1 c. chopped carrots
¼ c. chopped red onion
2 T. chopped fresh parsley
1 T. fresh chopped rosemary
1/3 c. mayo (I like Primal Kitchen Avocado Mayo)
1 T. ACV
Directions
Preheat oven to 450 degrees F. Cut up the potatoes into cubes and place on parchment lined baking tray. Drizzle with the avocado oil and season with s/p.
Bake 20-25 minutes or until they are soft and browned. Let cool
While they are cooking, mix together the celery, carrots, red onion, parsley and rosemary. Add in the cooled potatoes. Mix in the mayo and the ACV. Serve as is or chill for one hour.
Note: you can mix up this recipe by trying different herbs, using sweet potatoes, adding chopped sweet peppers or adding in hard boiled eggs.
If you are sick and tired of feeling sick, tired, fatigued, depressed, anxious and more and have given up hope then Karen's simple, effective, individualized and sustainable approach may be what you need.
Karen Brennan, MSW, CNC, Board Certified in Holistic Nutrition and Herbalist is the author of Tru Foods Depression Free Nutrition Guide; How Food Supplements and herbs can be used to lift your mood and If Life is So Good, Then Why AM I Still Depressed? Discover the root cause for your depression and learn what to do to feel better and owner of Tru Foods Nutrition Services, LLC.
For more information and to sign up for the Tru Foods monthly newsletter visit www.trufoodsnutrition.com
Want more information, like her fb page here
As a nutrition professional, Karen does not treat, cure nor diagnose. This information is for educational purposes only.