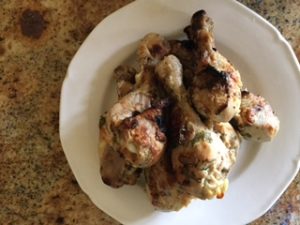 Herb Seasoned Chicken Legs
Ingredients
Roughly 6-8 chicken legs with skin on
¼ cup cilantro (or one small bunch)
¼ c. parsley (or one small bunch)
2 cloves garlic
2 T. fish sauce
¼ c. lemon juice
½ inch piece of ginger root sliced
1 shallot sliced
2 T. avocado or coconut oil
2 T. coconut aminos
1 T. honey
2 T. coconut milk
Directions
Line a baking dish with parchment and layer in the chicken legs. Preheat oven to 370 degrees F.
Place all other ingredients into a food processor and pulse until everything is chopped and incorporated.
Pour sauce evenly over the chicken. It is not a thick liquid so you may need to pick up some of the herbed liquid and place it on top of the chicken.
Bake for 30 minutes. Flip over and spoon some sauce on the chicken and cook for another 30 minutes. The chicken should have a nice brown color to it. There should be some sauce left at bottom of pan-if so, rub the chicken legs in this before removing for extra flavor.
Enjoy hold or cold!
Note: I didn't have non dairy milk one time so I used goat milk kefir-still tasted great! Try adding in or swapping out for other herbs you have on hand.
If you are sick and tired of feeling sick, tired, fatigued, depressed, anxious and more and have given up hope then Karen's simple, effective, individualized and sustainable approach may be what you need.
Karen Brennan, MSW, CNC, Board Certified in Holistic Nutrition and Herbalist is the author of Tru Foods Depression Free Nutrition Guide; How Food Supplements and herbs can be used to lift your mood and If Life is So Good, Then Why AM I Still Depressed? Discover the root cause for your depression and learn what to do to feel better and owner of Tru Foods Nutrition Services, LLC.
For more information visit www.trufoodsnutrition.com
Want more information, like her fb page here
As a nutrition professional, Karen does not treat, cure nor diagnose. This information is for educational purposes only.