Detox Salad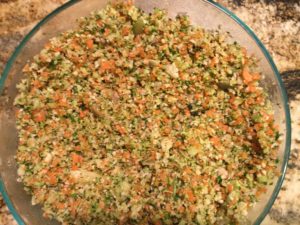 While I am not a huge fan of detox diets, this is a salad that can be added into your meals and contains vegetables and herbs that aid in detoxing the body. This salad can be used as a side dish and or you can add some protein to it, maybe some avocado slices, etc. and take it to work for lunch the next day.
Ingredients
1 small head broccoli
½ head cauliflower
3 carrots chopped
½ a bunch parsley
½ a bunch cilantro
1/8 cup raw sunflower seeds
1/8 cup raw pumpkin seeds
2 T. nutritional yeast
Ratio: 3 T. EVOO and 1 T. lemon juice
s/p to taste
Directions
Place the broccoli florets into food processor and process into small pieces. Remove and place in large bowl
Next add in the cauliflower and process until very small pieces and then add to bowl with broccoli.
Next add in the carrots the food processor and then add to the bowl with broccoli and cauliflower
Chop up the parsley and cilantro and add to the bowl. Add in the yeast
In a separate bowl, blend the EVOO and lemon juice. Add s/p to taste. Pour over broccoli blend and mix in. Depending on how much broccoli blend you have and your taste preference, you may need to increase the amount of the dressing.
Note: you can adjust this recipe to your taste. Next time try basil and garlic or sliced almonds.
Cilantro: this herb is great for cleansing. It contains compounds called flavonoids. These antioxidants bind to heavy metals and aid their removal from the body via urine. These compounds can also help fight inflammation caused by toxic overload.
Cauliflower and broccoli: these foods contain organosulfur compounds, essentially a fancy way of saying they contain sulfur. Sulfur rich foods can reduce inflammation, and bind to and aid in the excretion of heavy metals. They also can protect the liver from toxins. I bet you can't say that about your fast food burger!
If you are sick and tired of feeling sick, tired, fatigued, depressed, anxious and more and have given up hope then Karen's simple, effective, individualized and sustainable approach may be what you need.
Karen Brennan, MSW, CNC, Board Certified in Holistic Nutrition, is the author of Tru Foods Depression Free Nutrition Guide; How Food Supplements and herbs can be used to lift your mood and owner of Tru Foods Nutrition Services, LLC.
For more information visit www.trufoodsnutrition.com
Get her Food Swap Guide here to get started on your health journey today! Want more information, then like her fb page here
As a nutrition professional, Karen does not treat, cure nor diagnose. This information is for educational purposes only.