Chicken Asparagus Roll Ups
Gluten free
This was easier to make than I thought and good!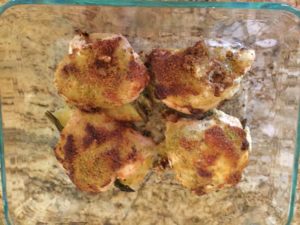 Ingredients
4 organic chicken breasts (flatten them out or slice thin)
½ cup mayo (I like Primal Kitchen mayo b/c it is soy and canola free-it uses avocado oil)
3 T. Dijon mustard
1 T. lemon juice (not from concentrate)
2 t. dried tarragon (or spice blend of choosing for chicken)
s/p
16 spears asparagus
4 ounces grass fed cheese (or opt for vegan cheese or omit) (if you are casein sensitive you may be able to use goat cheese)
1 cup gluten free bread crumbs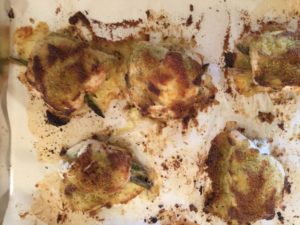 Directions
Preheat oven to 425. Soften asparagus by steaming in steamer basket for several minutes (or cook on high in microwave for one minute)
Flatten your chicken breasts and lay them out on a parchment lined baking tray
Blend sauce ingredients together (mayo, mustard, lemon juice, tarragon, s/p)
Spread some sauce onto each chicken beast then place some cheese on the chicken and then asparagus (you may need to cut your asparagus into halves or thirds). Use one half of the sauce mixture and save rest for the top of the chicken
Roll up the breast and tuck the ends underneath
Spread more sauce on the tops and then sprinkle with bread crumbs.
Bake for 25 minutes
If you are sick and tired of feeling sick, tired, fatigued, depressed, anxious and more and have given up hope then Karen's simple, effective, individualized and sustainable approach may be what you need.
Karen Brennan, MSW, CNC, Board Certified in Holistic Nutrition and Herbalist is the author of Tru Foods Depression Free Nutrition Guide; How Food Supplements and herbs can be used to lift your mood and owner of Tru Foods Nutrition Services, LLC.
For more information visit www.trufoodsnutrition.com
Get her Food Swap Guide here to get started on your health journey today! Want more information, like her fb page here
As a nutrition professional, Karen does not treat, cure nor diagnose. This information is for educational purposes only.