Lemon Poppy Seed Bread
Gluten, soy, dairy free, Paleo Friendly
This was a nice Spring Treat that I made recently for Easter. It was very easy to make. Very moist!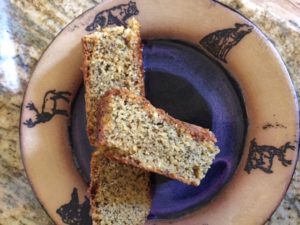 Ingredients
½ c. coconut flour
½ tapioca flour
1/8 c. poppy seeds (I used a little more)
¾ t. baking soda
Dash sea salt
1 T. grated lemon zest
6 pasture raised eggs
½ c. maple syrup
¼ lemon juice (not from concentrate)
1 t. vanilla extract
Directions
Preheat oven to 350 degrees. Blend together the coconut flour through to the zest.
In a separate bowl whisk, together the eggs through the lemon juice
Add the wet ingredients to the dry. It at first will look like thin liquid but coconut flour is highly absorbent so give it a minute and it will thicken up
Line a 8×8 tray with parchment paper. Pour in the batter
Bake for 30-35 minutes-watch so that it does not burn. (35 was too long in my oven)
If you are sick and tired of feeling sick, tired, fatigued, depressed, anxious and more and have given up hope then Karen's simple, effective, individualized and sustainable approach may be what you need.
Karen Brennan, MSW, CNC, Board Certified in Holistic Nutrition and Herbalist is the author of Tru Foods Depression Free Nutrition Guide; How Food Supplements and herbs can be used to lift your mood and owner of Tru Foods Nutrition Services, LLC.
For more information visit www.trufoodsnutrition.com
Get her Food Swap Guide here to get started on your health journey today! Want more information, like her fb page here
As a nutrition professional, Karen does not treat, cure nor diagnose. This information is for educational purposes only.