Green Pistachio Herbed Sauce for Salads and Veggie Dishes
Just throw everything in your food processor and there you have it! A great tasting green sauce for salads, veggies, on sandwiches and to use a dip.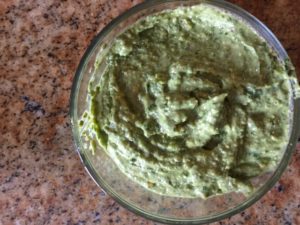 Ingredients
1 avocado (peel removed)
1 c. total of parsley and cilantro (I put one bunch of each into the food processor)
1 clove garlic
Dash salt
½ cup filtered water
Juice of ½ a lemon or 1 T. real lemon juice
½ cup EVOO
½ cup raw pistachios
Dash coriander
Directions
Combine all in food processor. Store in fridge until use.
Did you know that coriander comes from the same plant as cilantro leaves?
If you are sick and tired of feeling sick, tired, fatigued, depressed, anxious and more and have given up hope then Karen's simple, effective, individualized and sustainable approach may be what you need.
Karen Brennan, MSW, CNC, Board Certified in Holistic Nutrition and Herbalist is the author of Tru Foods Depression Free Nutrition Guide; How Food Supplements and herbs can be used to lift your mood and owner of Tru Foods Nutrition Services, LLC.
For more information visit www.trufoodsnutrition.com
Get her Food Swap Guide here to get started on your health journey today! Want more information, like her fb page here
As a nutrition professional, Karen does not treat, cure nor diagnose. This information is for educational purposes only.