Chunky Almond Butter Brownies
Gluten, dairy and soy Free, Paleo Friendly
You can use creamy almond butter, but I like that added crunch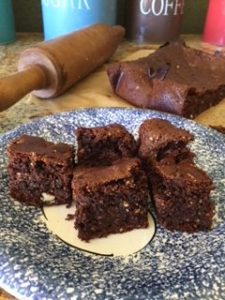 Ingredients
1 c. almond butter (creamy or chunky)
¼ c. plus 2 T. cacao (you can sub in cocoa powder)
1 pasture raised egg
½ c. honey or maple syrup
2 T. coconut oil melted
1 t. pure vanilla extract
½ t. Baking soda
¼ t. sea salt
¼ c. chopped nuts (optional)
½ c. dark chocolate baking chips
Directions
Line a 8×8 inch baking pan with parchment paper. Preheat oven to 350 F.
Mix all the ingredients together and pour into the pan.
Bake for 30 minutes
Almond Butter Brownies
2017-11-19 15:58:55
Serves 12
A healthier version of a brownie with added protein
Nutrition Facts
Amount Per Serving
* Percent Daily Values are based on a 2,000 calorie diet. Your Daily Values may be higher or lower depending on your calorie needs.
Ingredients
• 1 c. almond butter (creamy or chunky)
• ¼ c. plus 2 T. cacao (you can sub in cocoa powder)
• 1 pasture raised egg
• ½ c. honey or maple syrup
• 2 T. coconut oil melted
• 1 t. pure vanilla extract
• ½ t. Baking soda
• ¼ t. sea salt
• ¼ c. chopped nuts (optional)
• ½ c. dark chocolate baking chips
Instructions
Line a 8x8 inch baking pan with parchment paper. Preheat oven to 350 F.
2. Mix all the ingredients together and pour into the pan.
3. Bake for 30 minutes
TruFoods Nutrition http://trufoodsnutrition.com/
If you are sick and tired of feeling sick, tired, fatigued, depressed, anxious and more and have given up hope then Karen's simple, effective, individualized and sustainable approach may be what you need.
Karen Brennan, MSW, CNC, Board Certified in Holistic Nutrition and Herbalist is the author of Tru Foods Depression Free Nutrition Guide; How Food Supplements and herbs can be used to lift your mood and If Life is So Good, Then Why AM I Still Depressed? Discover the root cause for your depression and learn what to do to feel better and owner of Tru Foods Nutrition Services, LLC.
For more information visit www.trufoodsnutrition.com
Want more information, like her fb page here
As a nutrition professional, Karen does not treat, cure nor diagnose. This information is for educational purposes only.