Must Have Travel Products For Your Next Trip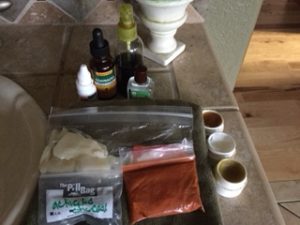 I admit it, I am not a good traveler. I am not a very flexible person when it comes to eating differently, using different body care products, being out of my routine, etc. And my body lets me know it! Here are some things that I take with me on trips so that I can stay as healthy as possible.
Swedish Bitters: I do not use these normally, but these are good to take with you on a trip to help you digest unfamiliar foods and to help you stay regular. Follow the directions on the bottle. I put a smaller amount into a travel size bottle. You can get Swedish bitters here
On a trip over to Europe I did not have these, and I was having a lot of stomach pain from eating out for every meal and was constipated. Because of this my skin also broke out in a terrible way. I finally stopped in an Apothecary in Germany and was able to pick up some bitters which helped my digestion a great deal!
Allicin: This is a compound from raw chopped garlic. It has antiviral, antibacterial and antifungal properties. The bottle is very small and travel size friendly. If I feel a bladder infection coming on (I have to really focus on drinking plenty of water when traveling), I will start to take this, about 10-20 drops 3x per day. I will also use this if I feel a virus coming on while traveling. Get Allicin here in capsule form. Check out your local health store for liquid form-either form is great.
Tea Tree Oil: This also comes in a small travel friendly sized container. This is great for topical (not internal) use. I use this if I break out. It can also be used on boils and other skin flare ups such as psoriasis. I use this brand
Master Tonic: I made a batch and it is ready to go for the trip. This is another cold and flu remedy to take as soon as you feel the bug coming on. You need to make this. I am holding a Master Tonic/Immune Support Workshop in Feb. Details can be found at Master Tonic Workshop
Vitamins in Mini Packs: The mini bags can be found at natural health stores. This is the one I use . I pack my vitamins for each day so that I can stay on track with my supplements which includes a spore probiotic, Megaspore, that does not have to be refrigerated
Echinacea in Tincture: I do not take this for colds and flu, rather I bring this along for cuts and wounds. If we are out and about and someone gets cut, just squirt a few dropper amounts of Echinacea on the open cut to clean it out and disinfect it. I like this brand
Chaparral and Comfrey Salve: I make my own salve and use this all the time. The chaparral is antibacterial/antifungal and the comfrey is healing. After the wound or cut is cleaned, I then put this salve on to avoid infection and to speed up the healing process.
Manuka honey: I put a small amount into a mini size container. Manuka also has antiviral, antibacterial and antifungal properties. I had some with me on a trip when I had a bad bladder infection and ate the whole jar up. It can be used on burns, scrapes, cuts, boils and any other skin issue. Manuka honey can be found at your local health food store or here is the one I use
Yarrow or Cayenne Pepper: Either one is good to slow down bleeding if you get cut and are bleeding a lot. Cayenne pepper is probably in your spice cabinet. For loose herbs check out your local herb shop or health store in the bulk section. For large amounts of loose organic herbs I prefer to use www.mountainroseherbs.com
Electrolytes: With running around while traveling or out in the heat and not drinking enough fluids, I always have some on hand and take as needed. I would much rather avoid the electrolyte drinks that are filled with colors, dyes and artificial ingredients. You can find these in your local running or bike shop or health store.
Restore: This is a product that can help with gut damage. I take this with me since I know I am not going to be able to avoid rancid oils, GMO's and more. I will take sips whenever I remember. Find it here, If you are not sure what this product is or does, do a google search and there are many videos about it with the founder. It is a product that I love for gut health, gut protection, intestinal permeability and digestive issues.
Tea and Tea Cup Strainer: I like to have my loose tea with me. I keep it in a baggie and have my tea cup strainer so that I can make tea in the Hotel coffee pot in the morning. (I do not drink my tea on planes any longer as I read too much about the water on the planes)
Berkey Filtered Water Bottle: The downside is that it is plastic but for travel it comes in handy. I fill up in the airport and when on the plane I ask for water and then I put it into my Berkey to filter it. We were recently in a place where the water had a very strong odor of chlorine to the point of making me feel sick and I couldn't even drink it. The next time I had my Berkey and this made a huge difference! The big test will be on our next trip to a country where you should only drink bottled water. I am going to try the tap water in my Berkey. I will keep you updated! Get it here
Food/Snacks: I pack enough mini sized baggies of nuts and seeds and various protein bars to be able to have two bags and two bars per day if I run into a jam and don't want to eat the food provided. At times we have travels from plane to train to bus and I was glad to have some healthy blood sugar balancing food choices on me. Other good travel options include beef jerky and beef sticks. You may also want to pack baggies of protein powder.
Activate Charcoal: I keep this on hand in case anyone gets sick from the food they eat. Activated charcoal will help to remove the toxins from the body. Take two capsules. Otherwise I can brush my teeth with it as a tooth whitener if I want. This is the one I use
Coconut Oil: I take this but typically don't use it because I have other antibacterial and antiviral products with me, but I can use it as a night time face cream if I forget my own. I can also use it up for one oil pulling on the trip for oral health.
Soap: I use Dr. Bronner's Tea tree soap and do not like all the perfume soaked bars in hotels. I cut it into small pieces, so I only need to take one piece out for my shower. This makes it easier when traveling from one hotel to another. I use this type of soap
Some other things to consider-products for travel anxiety (Gaba, Kava) and products for jet lag (melatonin). What is your main issue when you travel? Mine tends to be a weaker immune system and skin and digestive issues but your issues may be different.
What are your must haves when you travel?
Did you enjoy this list, was it helpful for your next trip?
Let me know!
If you are sick and tired of feeling sick, tired, fatigued, depressed, anxious and more and have given up hope then Karen's simple, effective, individualized and sustainable approach may be what you need.
Karen Brennan, MSW, CNC, Board Certified in Holistic Nutrition and Herbalist is the author of Tru Foods Depression Free Nutrition Guide; How Food Supplements and herbs can be used to lift your mood and If Life is So Good, Then Why AM I Still Depressed? Discover the root cause for your depression and learn what to do to feel better and owner of Tru Foods Nutrition Services, LLC.
For more information visit www.trufoodsnutrition.com
Want more information, like her fb page here
As a nutrition professional, Karen does not treat, cure nor diagnose. This information is for educational purposes only.