This is what my Cold and Flu Brew looks like right now!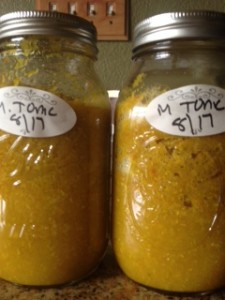 It is nice and yellow due to the turmeric root I added in as my last batch had turmeric powder. This will sit for 4 weeks, then I will strain it. It will be ready to use! My son has already asked that I send some to him in Canada once it is ready. This will also go in my other son's natural remedy "kit" that I am making for his trip overseas (he just doesn't know it yet that this will go with him!)
If you would like to learn more, how to make your own and have it on hand for the cold and flu season for you and your family go here for more information.
Karen Brennan, MSW, CNC, owner of Tru Foods Nutrition Services, LLC believes in food first to address the root causes of our health conditions. For more information visit her site at www.trufoodsnutrition.com
This information is not meant to replace medical care. As a nutrition professional Karen does not treat, cure or diagnose.