Chinese Chicken
(General Tso's chicken revised)
Gluten, soy and dairy free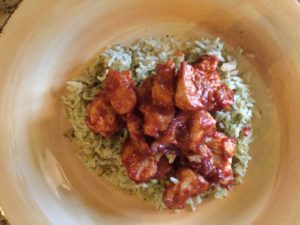 If you like takeout Chinese food, here is a healthier substitute for General Tso's chicken dish. You can use store bought hoisin sauce but I made my own and the recipe for that is below. (I opted to make my own as I wanted to avoid soy in this recipe)
Ingredients
1 pound organic chicken cut into small pieces
2 T. non -GMO cornstarch plus 1 t. (or use arrowroot)
1 t. sesame seed oil
2 cloves garlic chopped
1 small piece of ginger root, peeled and chopped
2 T. coconut aminos
1/2 c. organic chicken broth (or bone broth)
1 T. rice wine vinegar
2 T. tomato paste
2 t. hoisin sauce (see recipe below)
1 t. pure grade B maple syrup or local honey
2 T. water
2 T. sesame seeds
Directions
Preheat oven to 375
Coat the chicken with the 2 T. of the cornstarch.
Place the chicken on a parchment lined tray and place in oven for 12-15 minutes
Meanwhile, in a pan, heat the oil and add in the garlic and ginger and cook for 1-2 minutes
Add in the coconut aminos, broth, vinegar, paste, hoisin sauce, and maple syrup. Bring this to a boil
Reduce the heat to medium and continue to cook for 4 to 5 minutes
Blend the 1 t. corn starch with the 2 T. water and add to the sauce and blend well.
Boil for 3 to 4 minutes
Add in the chicken
Sprinkle with sesame seeds if desired right before serving
Serve with basmati white rice and sautéed vegetables
Hoisin Sauce
Ingredients
4 T. coconut aminos
2 T. peanut butter (or can use black bean paste)
1 T. honey
2 t. rice vinegar
1 clove garlic chopped
2 t. sesame seed oil
Dash pepper
1 t. Chinese hot sauce (I did not add this in to mine as I don't like spicy)
Blend all ingredients together. Use amount needed for recipe. Store rest in mason jar in fridge.
Karen Brennan, MSW, CNC, Board Certified in Holistic Nutrition, and author of the Tru Foods Depression Free Nutrition Guide E book http://trufoodsnutrition.com/tru-foods-nutrition-and-supplement-plan-for-depression-e-book/ (and now in hard copy too http://trufoodsnutrition.com/ ) and owner of Tru Foods Nutrition Services LLC, will help you get to the root causes of your health conditions with an individualized plan instead of symptom management so that you can feel better finally!
For more information visit www.trufoodsnutrition.com or call 303-522-0381
Like this information? Know someone who can benefit from it? Please share!