Quinoa with Herbs and Vegetables
This makes a great side dish. Make plenty so that you can add protein to the quinoa and take to work for lunch the next day.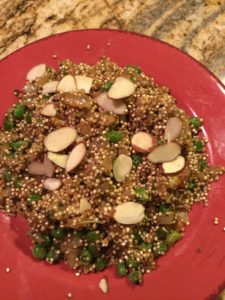 Ingredients
1 c. quinoa
3 T. EVOO
1 onion diced
2 cloves garlic minced
1 c. peas (fresh or frozen)
Dash sea salt
1 t. dried oregano
1 t. thyme leaves
1 t. dried rosemary
2 c. chicken broth or bone broth
½ c. chopped fresh parsley
2 T. almond slivers
Directions
Rinse the quinoa by placing it in a fine mesh strainer and running it under water for a minute. Let it drain while you cook the onions
Heat 2 tablespoons EVOO on medium high heat in your skillet. Add the chopped onion and sauté until it is slightly brown. Add the quinoa and stir for a couple minutes until the quinoa is lightly toasted.
Push the quinoa to the side and add in the other tablespoon of EVOO. Add in the minced garlic and the herbs. Sauté for 30 seconds.
Add in the broth, peas and salt and stir. Cover with a lid and bring to a boil, then let it simmer for about 20 minutes.
Check now. All the liquid should be gone. If the quinoa is too hard then add a little more liquid and let it simmer a few more minutes.
Stir in the parsley and the almonds and serve. Serve with protein and a vegetable. Use the leftovers to make a quinoa bowl for next days lunch.
Free Nutrition Seminar to start the year off right coming up on Jan. 15th, 2017. Go to https://facebook.com/Trufoodsnutrition
If you are sick and tired of feeling sick, tired, fatigued, depressed, anxious and more and have given up hope then Karen's simple, effective, individualized and sustainable approach may be what you need.
Karen Brennan, MSW, CNC, Board Certified in Holistic Nutrition (candidate) is the author of Tru Foods Depression Free Nutrition Guide; How Food Supplements and herbs can be used to lift your mood and owner of Tru Foods Nutrition Services, LLC.
For more information visit her site at www.trufoodsnutrition.com
Get her Food Swap Guide here to get started on your health journey today! Want more information, then like here fb page here
As a nutrition professional, Karen does not treat, cure nor diagnose. This information is for educational purposes only.