No-Bake Almond Bars
Paleo, gluten, soy, dairy free, Raw
This is one of my favorites and will be included in my holiday cookie tins that I give out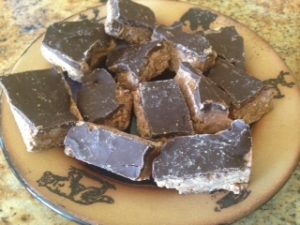 Ingredients
1 c. almond butter (plain such as the homemade one from Natural Grocers)
½ c. coconut butter (not coconut oil!)
3 T. raw local honey
1 c. shredded coconut (unsweetened)
2 T. cacao powder
3 T. coconut oil melted
Topping½ c. dark chocolate (I use Enjoy life brand or Lilly's)
2 T. roasted salted sunflower seeds (optional)
Directions
In med. size bowl, blend the almond butter, coconut butter, coconut, honey, powder and oil and blend until well combined.
Press the mixture into a 8×8 pan (I line my pan with parchment for easier removal and cleanup)
Keep in fridge until firm
Melt the chocolate and spread over the firm bars. Sprinkle with seeds if desired. Chill again.
When chocolate is hard, cut bars. I find it is easier to flip over the bar and cut this way instead.
These freeze well.
If you are sick and tired of feeling sick, tired, fatigued, depressed, anxious and more and have given up hope then Karen's simple, effective, individualized and sustainable approach may be what you need.
Karen Brennan, MSW, CNC, Board Certified in Holistic Nutrition (candidate) is the author of Tru Foods Depression Free Nutrition Guide; How Food Supplements and herbs can be used to lift your mood and owner of Tru Foods Nutrition Services, LLC.
For more information visit her site at www.trufoodsnutrition.com
Get her Food Swap Guide here to get started on your health journey today! Want more information, then like here fb page here
As a nutrition professional, Karen does not treat, cure nor diagnose. This information is for educational purposes only.