Apple Bread with Caramel Sauce
(Paleo, gluten, soy and dairy free)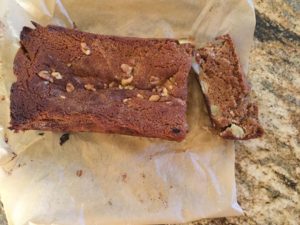 This makes a nice breakfast treat for holiday guests, or to give as a hostess gift. I do not use the caramel sauce as I rather avoid the extra sugar in this recipe.
This recipe took me 22 minutes to make from start to finish (when I put it in the oven). That included getting out all the ingredients I needed and the clean up when I was done.
It is a very moist bread. Be sure to not use heaping tablespoons of the oil as it may come out too oily then.
Ingredients
Apple bread
2 c. almond flour
1 T. coconut flour
1 t. pumpkin pie spice blend
1 t. baking soda
Dash sea salt
1 small org. granny smith apple-peeled, chopped
1 small can coconut milk full fat
4 T. coconut oil melted
6 T. raw honey or pure maple syrup
2 pasture raised eggs
1 t. apple cider vinegar (ACV)
1 t. vanilla extract
1/3 c. walnuts chopped (optional)
Crumb topping
2 t. almond flour
1 ¼ t. coconut oil melted
¼ t. ground cinnamon or the pumpkin spice blend
1-2 T. of the walnuts reserved from the 1/3 c. mentioned above
Caramel Topping
2 T. filtered water
¼ c. coconut sugar
½ c. coconut milk
1 t. vanilla extract
dash sea salt
Directions
Preheat the oven to 350 F. Line a loaf pan with parchment paper and lightly grease the paper with coconut oil.
Mix together the almond flour, coconut flour, spice blend, baking soda and salt.
In a separate bowl whisk together the milk, oil, honey, eggs, ACV, and extract.
Add dry to the wet and blend until just combined.
Fold in the apples and walnuts (save about 1-2 T. walnuts for the topping)
Pour into loaf pan.
For the crust: mix all crumb topping together, then sprinkle on to the bread along with the walnuts
Bake for 30 min. then cover the bread with foil and bake for another 20 minutes.
After you have removed the bread from the pan drizzle on the caramel sauce.
For the sauce (prepare while bread is in the oven): bring the water and sugar to a boil stirring constantly. Add in the milk, extract and salt and cook for 10 min. on med. heat stirring constantly so that it does not burn. It will thicken and turn a darker color.
Notes:
Typically, I avoid the use of aluminum foil but when I do use it I am careful so that it does not touch the food. Make a tent over the loaf pan so that it does not touch the bread if possible. OR try using parchment paper
If using an organic apple, no need to peel
If you are sick and tired of feeling sick, tired, fatigued, depressed, anxious and more and have given up hope then Karen's simple, effective, individualized and sustainable approach may be what you need.
Karen Brennan, MSW, CNC, Board Certified in Holistic Nutrition (candidate) is the author of Tru Foods Depression Free Nutrition Guide; How Food Supplements and herbs can be used to lift your mood and owner of Tru Foods Nutrition Services, LLC.
For more information visit her site at www.trufoodsnutrition.com
Get her Food Swap Guide here to get started on your health journey today! Want more information, then like here fb page here
As a nutrition professional, Karen does not treat, cure nor diagnose. This information is for educational purposes only.