Roasted Pork Tenderloin
We don't eat pork very often but when we do I only purchase it from Natural Grocers (hormone and antibiotic free pork)
This is a recipe that you can place all ingredients into a bag the night before or in the morning so that when you get home just pour it all into a pan for a quick and easy mid week meal.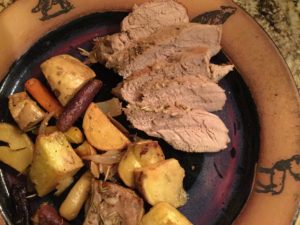 Ingredients
2-pound boneless pork loin roast
3 cloves garlic minced
1 T. dried rosemary
s/p to taste
¼ c. EVOO or avocado oil
1/4 c. white wine
Vegetables (optional) such as carrots, sweet potato, parsnips, onion, celery
Beef broth or bone broth
1-2 T. Arrowroot or non-GMO cornstarch
Note: I add in a little more olive oil to the bag when I add in a bunch of vegetables
I included carrots, onions and wild yams in this one.
Directions
Preheat oven to 350 degrees
Crush garlic with rosemary and s/p to make a paste
Rub meat with garlic mixture and EVOO. Place in Ziploc bag for few hours to marinate. (you can add in vegetables to the bag at this time or add them in step 4)
Place in pan and add in ¼ wine to bottom of pan. At this point you can add in some vegetables too such as carrots, parsnips, sweet potatoes, onions, celery)
Roast for about 1 ½ hours covered. Check with thermometer-done when temperature is 145 degrees.
Optional: you can add some bone broth or beef broth to the bottom of pan when done, add in 1 T. non- GMO corn starch or arrowroot to this to make gravy.
Serve with roasted veggies and a side salad
I used a one pound tenderloin and cooked it for 45 minutes in my convection oven. Don't overcook as it will be dry not moist.
Rosemary Benefits: it is used for memory enhancement, dementia, pain/inflammation, infections, cancer, elevated blood sugar and elevated cortisol levels.
If you are sick and tired of feeling sick, tired, fatigued, depressed, anxious and more and have given up hope then Karen's simple, effective, individualized and sustainable approach may be what you need.
Karen Brennan, MSW, CNC, Board Certified in Holistic Nutrition (candidate) is the author of Tru Foods Depression Free Nutrition Guide; How Food Supplements and herbs can be used to lift your mood and owner of Tru Foods Nutrition Services, LLC.
For more information visit her site at www.trufoodsnutrition.com
Get her Food Swap Guide here to get started on your health journey today! Want more information, then like here fb page here
As a nutrition professional, Karen does not treat, cure nor diagnose. This information is for educational purposes only.