Herbed Salmon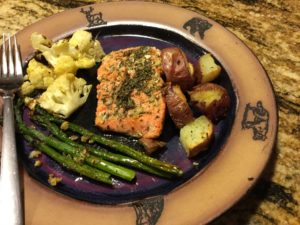 Serves 2
Ingredients
2 salmon filets
s/p to taste
2 T. EVOO
1 clove garlic minced
1 t. lemon juice
½ t. lemon zest
2 t. thyme
1 T. melted grass fed butter
Directions
Sprinkle the s/p on the salmon filets
Place 1 T. oil into a deep dish and add in the garlic, lemon juice, zest and 1t. of the thyme.
Place the salmon in the dish and turn it around to coat well with the marinade
Let this stand for 15 minutes
Heat a skillet and coat with 1 T. EVOO
Cook for 5 minutes on medium heat per side
Add the rest of the thyme to the melted butter and mix well. Drizzle this onto the cooked salmon and serve.
Free Nutrition Seminar to start the year off right coming up on Jan. 15th, 2017. Go to https://facebook.com/Trufoodsnutrition
If you are sick and tired of feeling sick, tired, fatigued, depressed, anxious and more and have given up hope then Karen's simple, effective, individualized and sustainable approach may be what you need.
Karen Brennan, MSW, CNC, Board Certified in Holistic Nutrition (candidate) is the author of Tru Foods Depression Free Nutrition Guide; How Food Supplements and herbs can be used to lift your mood and owner of Tru Foods Nutrition Services, LLC.
For more information visit her site at www.trufoodsnutrition.com
Get her Food Swap Guide here to get started on your health journey today! Want more information, then like here fb page here
As a nutrition professional, Karen does not treat, cure nor diagnose. This information is for educational purposes only.