Psoriasis: Get Rid of it Once and for All the Natural Way like I did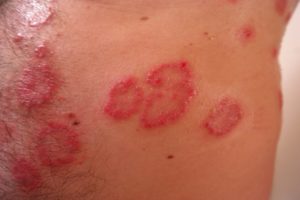 It seems like every time I watch TV or open a magazine, there is an advertisement for medication to treat psoriasis.
If you have psoriasis and have used medications and creams, you know that they come with side effects and your psoriasis is never completely cleared up.
Having psoriasis is not just a skin disorder because it impacts so many parts of your life. The suicide rate amongst those with psoriasis is high. You become isolated and depressed because you don't want anyone to see how you look.
I totally understand it and you don't have to live with psoriasis.
My Story
I have had three severe psoriasis outbreaks in my life-one in middle school, one in my freshman year of college and the last one in my early 30's. I have not had an outbreak since the one in my 30's so roughly 17 years now. I have the genetic gene for psoriasis on my father's side so I am more susceptible to it.
But if you have psoriasis, remember this, your genes load the gun, your diet and lifestyle pull the trigger. So, while it may b
autoimmune condition and you have the genes for it, it does not mean you must live with outbreaks. Diet and lifestyle can keep it at bay. Diet and lifestyle can turn off a gene from expressing itself. But choose the wrong diet and lifestyle for you and your condition and you can turn on the gene.
My condition was severe. I never had just plaque psoriasis, No, I was one of the lucky ones who was covered in it head to toe, no exaggeration. From my scalp, to between my fingers and toes. Yup, I know gross. So, imagine how I felt with it. If you have psoriasis, I know how you feel.
But I was also lucky. Each outbreak typically lasted only months except the first outbreak was longer but still less than a year.
Before I became a nutrition professional, I wasn't sure what was working since I tried so many different things. And I couldn't understand the why, when another outbreak occurred. What was I doing to cause it? Now it is clear to me what works and what triggers an outbreak as well.
If you are suffering with psoriasis I want to let you know there is a natural approach to healing. I have been where you are at.
You should not have to suffer with this condition. Let me help you. Call today for a free 15-minute phone consult to see if I can help you
.
If you are sick and tired of feeling sick, tired, fatigued, depressed, anxious and more and have given up hope then Karen's simple, effective, individualized and sustainable approach may be what you need.
Karen Brennan, MSW, CNC, Board Certified in Holistic Nutrition (candidate) is the author of Tru Foods Depression Free Nutrition Guide; How Food Supplements and herbs can be used to lift your mood and owner of Tru Foods Nutrition Services, LLC.
For more information visit her site at www.trufoodsnutrition.com
Get her Food Swap Guide here to get started on your health journey today! Want more information, then like here fb page here
As a nutrition professional, Karen does not treat, cure nor diagnose. This information is for educational purposes only.