Chicken Curry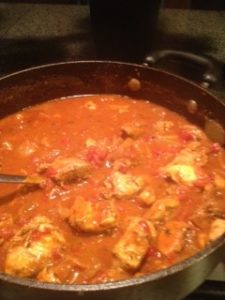 Gluten free, Dairy free, serves 6
This is a simple, great tasting and quick meal to make. We make this often in our house and we usually have enough for another day. Serve this with basmati white rice and a salad.
Ingredients
2 lbs. boneless chicken breast cut into chunks (org. preferably)
Dash salt and pepper
1 ½ T olive oil
2 T. curry powder
1 onion sliced
2 cloves garlic minced
1 14 ounce can of coconut milk
1 lg. box of diced tomatoes (26. 46 ounces)
1 small can tomato sauce (6 oz.)
Directions
Season chicken with salt and pepper
Heat oil in pan and add curry and stir off and on for 2 min at med high heat. Add in onion and garlic and stir to coat with the curry for about 1 min. Add the chicken and toss to coat. Reduce heat to medium. Cook 7 to 10 minutes.
Pour in coconut milk and tomatoes and paste. Stir to combine. Cover and simmer for 30 to 40 minutes.
Note:
I buy boxed tomatoes so that I limit the amount of cans that I use as much as possible.
I buy my spices in the bulk section of the store and then place them in spice jars that I have cleaned out to save some money.
We like a lot of extra sauce and this ends up being kind of soupy rather than thick. So if you don't like it that way, then use only half the box of chopped tomatoes.
If you are sick and tired of feeling sick, tired, fatigued, depressed, anxious and more and have given up hope then Karen's simple, effective, individualized and sustainable approach may be what you need.
Karen Brennan, MSW, CNC, Board Certified in Holistic Nutrition (candidate) is the author of Tru Foods Depression Free Nutrition Guide; How Food Supplements and herbs can be used to lift your mood and owner of Tru Foods Nutrition Services, LLC.
For more information visit her site at www.trufoodsnutrition.com
Get her Food Swap Guide here to get started on your health journey today! Want more information, then like here fb page here
As a nutrition professional, Karen does not treat, cure nor diagnose. This information is for educational purposes only.