Pot Roast (slow cooker)
I buy my organic grass fed roast from Natural Grocers and this comes in a 2-pound size (not bone in). This works perfect for a family of 4. This is a winter favorite in our household.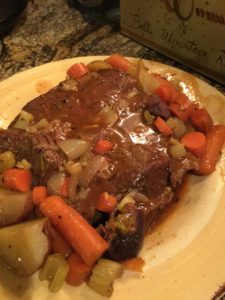 8 servings/can easily cut this recipe in half
Ingredients
1- 5-pound bone in beef pot roast (See note below)
s/p
1 T. brown rice flour
2 T. olive oil
8 oz. mushrooms
1 med. onion chopped
2 cloves garlic minced
1 T. butter
1 ½ T. brown rice flour
1 T. tomato paste
2 ½ c. beef broth or bone broth
3 med. carrots cut into chunks
2 stalks celery cut into chunks
2 parsnips cut into chunks
1 sprig rosemary, 2 sprigs thyme (can use dried if you don't have fresh)
Directions
Season both sides of meat with s/p. Sprinkle flour over meat until well coated and pat it into the meat. Shake off excess.
Heat oil in large pan or pot over med-high heat until hot. Sear the meat on both sides, about 5-6 minutes each side until well browned. Remove from pan and set aside
Reduce heat to med. and stir in mushrooms and butter. Cook 3-4 minutes. Sit in onion and cook another 5 minutes. Add in garlic and stir for one minute.
Stir in 1 ½ T. flour and cook and stir about 1 minute. Add the paste, and cook another minute.
Slowly add the stock and stir to combine and return to simmer. Remove from heat
Place carrots, celery, parsnips into slow cooker. Place roast over vegetables and add in any accumulated juices. Add rosemary and thyme. Pour onion and mushroom mixture over top of roast. Cover and cook on high 5-6 hours until meat is tender.
Serve with salad.
Note: if you cannot find org. grass fed bone in pot roast, you can usually still find org. pot roast without the bone. Purchase a couple marrow soup bones and add these to the slow cooker. This will give the roast a rich flavor. (But even without the added bones, this still taste great!) I often omit the mushrooms (even though I love them) because other family members do not. While my roast is 2 pounds, I keep all the other amounts in this recipe the same-it makes a great gravy! (You can omit the potatoes and make mashed instead and put the gravy to good use!)
If you are sick and tired of feeling sick, tired, fatigued, depressed, anxious and more and have given up hope then Karen's simple, effective, individualized and sustainable approach may be what you need.
Karen Brennan, MSW, CNC, Board Certified in Holistic Nutrition (candidate) is the author of Tru Foods Depression Free Nutrition Guide; How Food Supplements and herbs can be used to lift your mood and owner of Tru Foods Nutrition Services, LLC.
For more information visit her site at www.trufoodsnutrition.com
Get her Food Swap Guide here to get started on your health journey today! Want more information, then like here fb page here
As a nutrition professional, Karen does not treat, cure nor diagnose. This information is for educational purposes only.