Spring Slaw
I love cabbage so I am always tweaking some dressings for a coleslaw blend.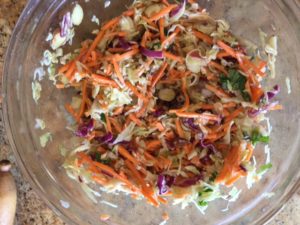 Ingredients
4 cups of cabbage (I buy a bag of shredded cabbage or coleslaw mix)
2 cups of shredded carrots (I buy organic shredded carrots)
1 bunch org. cilantro chopped
1 bunch org. parsley chopped
½ cup slivered almonds
¼ a red onion diced
Dressing
6 T. EVOO
4 T. Apple cider vinegar
1 T. raw local honey
1 t. Dijon mustard
Dash s/p
Directions
Place all salad ingredients into a large bowl.
Whisk together all the dressing ingredients and pour over the cabbage blend. Mix well. Refrigerate until ready to serve.
Adjust dressing to suit your taste-double amount if desired.
Note: can also add avocado slices at end. Add in protein to make it a meal
If you are sick and tired of feeling sick, tired, fatigued, depressed, anxious and more and have given up hope then Karen's simple, effective, individualized and sustainable approach may be what you need.
Karen Brennan, MSW, CNC, Board Certified in Holistic Nutrition and Herbalist is the author of Tru Foods Depression Free Nutrition Guide; How Food Supplements and herbs can be used to lift your mood and owner of Tru Foods Nutrition Services, LLC.
For more information visit www.trufoodsnutrition.com
Get her Food Swap Guide here to get started on your health journey today! Want more information, like her fb page here
As a nutrition professional, Karen does not treat, cure nor diagnose. This information is for educational purposes only.