Slow Cooker Mushrooms with Garlic and Onions
While sautéing mushrooms is pretty simple, l Liked being able to throw all these ingredients into the slow cooker and focus on something else. They tasted great days later too. This recipe is revised from Mercola.com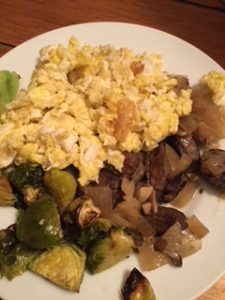 Ingredients
2 T. grass fed butter
1 onion chopped
1 -pound mushrooms
1 clove garlic minced
2/3 c. bone broth or organic chicken broth
s/p to taste
1 t. dried thyme
Directions
Toss everything into the slow cooker and turn on high for one hour or on low for 2 hours.
If you are sick and tired of feeling sick, tired, fatigued, depressed, anxious and more and have given up hope then Karen's simple, effective, individualized and sustainable approach may be what you need.
Karen Brennan, MSW, CNC, Board Certified in Holistic Nutrition and Herbalist is the author of Tru Foods Depression Free Nutrition Guide; How Food Supplements and herbs can be used to lift your mood and If Life is So Good, Then Why AM I Still Depressed? Discover the root cause for your depression and learn what to do to feel better and owner of Tru Foods Nutrition Services, LLC.
For more information visit www.trufoodsnutrition.com
Want more information, like her fb page here
As a nutrition professional, Karen does not treat, cure nor diagnose. This information is for educational purposes only.