Roasted Red Beet Hummus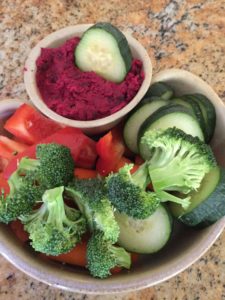 This is one of my favorite "dip" recipes. If I'm going to a party I usually bring this!
Makes about 3 cups
Gluten free/vegan
Provided from www.deliciousliving.com
Ingredients:
1 pound red beets; washed, peeled and cut into chunks
Avocado Olive oil for drizzling
1 (15 ounce) can chickpeas, rinsed and drained
3 gloves garlic
¼ c. tahini
¼ c. fresh lemon juice
1 T. ground cumin
2 T. olive oil
½ t. sea or Himalayan salt
*omit beets for basic hummus
Directions
Preheat oven to 400 degrees
Place beet chunks on a baking sheet, drizzle with olive oil and sprinkle w/ salt and pepper. Roast for 30 to 40 minutes or until tender. Allow to cool slightly;
Transfer roasted beets to food processor and add all remaining ingredients. Blend until creamy, scraping down sides as needed. Adjust taste w/ lemon juice and salt as needed; serve w/assortment of fresh vegetables
Notes:
Recipe can be refrigerated for up to 3 days. It also freezes well.
Save the beet greens and peels for your mineral broth
Omit beets and add jarred roasted red peppers for red pepper version
If you are sick and tired of feeling sick, tired, fatigued, depressed, anxious and more and have given up hope then Karen's simple, effective, individualized and sustainable approach may be what you need.
Karen Brennan, MSW, CNC, Board Certified in Holistic Nutrition (candidate) is the author of Tru Foods Depression Free Nutrition Guide; How Food Supplements and herbs can be used to lift your mood and owner of Tru Foods Nutrition Services, LLC.
For more information visit her site at www.trufoodsnutrition.com
Get her Food Swap Guide here to get started on your health journey today! Want more information, then like here fb page here
As a nutrition professional, Karen does not treat, cure nor diagnose. This information is for educational purposes only.