Paleo Style Dark Chocolate Cookies
(Gluten free, dairy free option)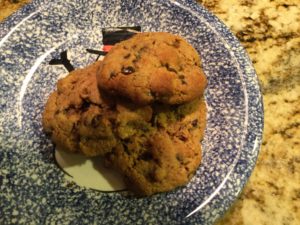 This is a great tasting cookie and its grain free. Yes, sadly it does contain sugar. But that's why it is reserved for the holidays!
Ingredients
5 T. grass fed butter softened (or use Spectrum palm shortening for dairy free version)
½ c. coconut sugar
1 T. honey
1 large pasture raised egg
½ T. vanilla extract
1 ½ c. almond flour
2 T. coconut flour
½ t. baking soda
Dash salt
½ a bag dark chocolate (I like Enjoy Life or Lily's brand which is stevia sweetened)
1/3 c. chopped walnuts (optional)
Directions
Preheat oven to 350 degrees
Cream the butter, sugar, honey, egg, and vanilla until smooth
Add in the almond flour, coconut flour, baking soda and salt Gently blend until combined.
Fold in the chocolate and nuts.
Place on parchment lined cookie sheet and bake for roughly 15 minutes or until tops are lightly brown.

(it may look brown ahead of this time but I find the cookie is too soft and falls apart if I take it out sooner, say around 11 minutes)
Note: I double this recipe and freeze the batter for later use.
If you are sick and tired of feeling sick, tired, fatigued, depressed, anxious and more and have given up hope then Karen's simple, effective, individualized and sustainable approach may be what you need.
Karen Brennan, MSW, CNC, Board Certified in Holistic Nutrition (candidate) is the author of Tru Foods Depression Free Nutrition Guide; How Food Supplements and herbs can be used to lift your mood and owner of Tru Foods Nutrition Services, LLC.
For more information visit her site at www.trufoodsnutrition.com
Get her Food Swap Guide here to get started on your health journey today! Want more information, then like here fb page here
As a nutrition professional, Karen does not treat, cure nor diagnose. This information is for educational purposes only.