Tru Foods Nutrition and Supplement Plan for Depression E Book
Are you or someone you know depressed?
Have you tried everything to help and don't know what else to do?
Are medications and talk therapy only getting you so far?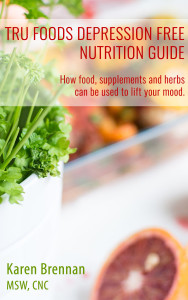 Choose your format:
PDF
ePUB (iBooks)
MOBI (Kindle)
Hard Copy – Click here to order.
This E book provides a nutrition, supplement and herb guide to help you overcome your depression. While this book does not go into detail as to what depression is and what can cause it, it instead focuses on what you can do to start feeling better.
I am currently working on another E book on root causes of depression and while I was working on it, a friend of my son's committed suicide. This was his second friend he lost in the past few years (and sadly he knows several others that have taken their lives). I decided I wanted to get something made available to all of you to help you feel better. I think once you start to feel better, then you will be able to read and understand why you have been feeling the way you have. At this stage you may not care what is causing your depression; you just want to feel like your old self. This is what this plan is for!
Please share this information with anyone that you know!
I cannot tell you how many times I have heard
"I never knew he was depressed"
"That was the last person I would have thought to kill herself"
"He was the happiest person I knew"
I cannot stress to you how many people with depression are some of the greatest actors on earth. They hide their depression from everyone yet inside they feel this inner darkness and despair. Your friend, your neighbor or loved one may be depressed and you have no idea.
Why did I even begin to write a book on depression? I am a Certified Nutrition Consultant, Board Certified in Holistic Nutrition (candidate) and soon to be Herbalist. I also have a Masters in Social Work. I am the owner of Tru Foods Nutrition Services, LLC and I provide nutrition consults education and much more for my clients. But I was not always nutrition professional. In fact, I worked in geriatrics for many years.
Everything changed for me when my son fell into a deep depression to the point of being suicidal. Help couldn't come fast enough and no one had answers, just medications and talk therapy. His life was good, so why was he depressed?
After returning to school for my nutrition certification, so much is clearer to me now. There are so many health issues that can cause and contribute to depression. Why does no one tell you this? Why do doctors not know this or share this?
Because of the path I have traveled with my son and watching him suffer for so long, I want to prevent others from traveling down that long path with so many dead ends. I want to make it easier for you or your loved one to get better and fast.
I am not going to lie-my plan is harder than popping an SSRI daily. It does take more time and more commitment. However I think most can agree that nutrition has an impact on our moods. If you don't address the root causes of your depression than your medication is only a band-aide and band-aides don't last forever.
This plan does its best to cover many health needs however it is not an individualized plan since I do not know you or your root causes. If you would like to use my consult services, view my website for more information.
I walk you through this plan with guides and easy to understand plans. If you need additional support then go to my website www.trufoodsnutrition.com and contact me for services.
This plan is not meant to treat, cure or diagnose. It is not meant to replace the care you are receiving from your health and medical professionals but rather to support and enhance it.
When people are depressed they often they think they need to see their medical professional and talk therapist. But who thinks "I'm depressed, I should see a nutritionist"!? Don't forget this very important and critical piece that can have a huge impact on your well-being.
If you are at risk of suicide please call 911 and your health professional right away.
Below is the table of contents of the E book to give you an idea of what it entails.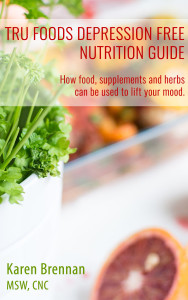 Choose your format:
PDF
ePUB (iBooks)
MOBI (Kindle)
Table of Contents
As you can see, some sections are very short reads! You can do this! Break it into small chunks in order to get through the information.
Who this plan is for: 6
What you need to know before you jump right in: 10
What foods to add in/eliminate for 21 days: 11
Clean 15/Dirty dozen shopping guide: 15
Standard American Diet and your Neurotransmitters: 17
Medications that may be causing/contributing to your depression: 18
The impact of our food choices: 20
Mindful Eating: Why you need to incorporate this: 21
Food Swap guide: Replacing the bad with the good: 24
Pantry Makeover: What you need to toss out!: 27
Choosing your seafood: 33
Oil Guide: 35
Homemade Broths: Benefits and how to make: 39
Carbs: What you need to know about them: pg. 43
Root Causes to Depression: A brief look at 10 possibilities: 45
When to start the meal plan and what to expect in week one: 61
The 21 Day Meal Plan: 63
Shopping list: 73
Recipes

Breakfast: 79
Salad/Dressings/Condiments: 90
Lunches: 94
Dinners: 100
Soups: 112
Breads: 116
Side Dishes: 120
Snacks, Desserts: 126
Boosting the diet even more: 133

Vitamins/Minerals, Amino Acids, Herbs, Sugar craving support: pg. 134
Life After the 21 days: 146
Questions and Answers: 150
Resources: Books, Websites: 154
Sources: 156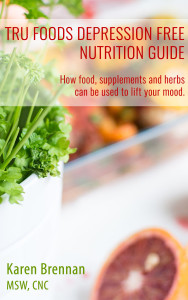 Choose your format:
PDF
ePUB (iBooks)
MOBI (Kindle)