If Life Is So Good, Then Why AM I Still Depressed?
Discover the root cause for your depression and learn what to do to feel better
Are you or someone you know depressed?
Have you tried everything and don't know what else to do?
Are medications and talk therapy only getting you so far?
New, Summer 2017! This book addresses root causes of Depression. Learn what may be causing your depression, along with assessments, questionnaires, testing and plan of actions for each root cause. This book will help you identify your causes so that you don't have to waste time and money trying everything to get better.
The guide sold below is meant to compliment this book and to be used in conjunction as it contains a meal and supplement plan
Hard Copy: $19.95 – Click here to order.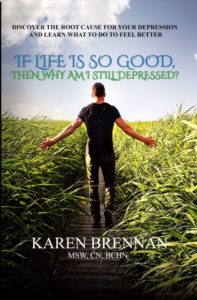 Tru Foods Nutrition and Supplement Plan for Depression Book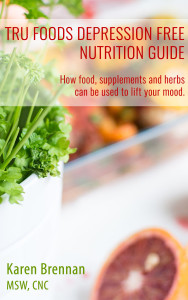 Choose your format:
PDF
ePUB (iBooks)
MOBI (Kindle)
Hard Copy $14.95 – Click here to order.
This book provides a nutrition, supplement and herb guide to help you overcome your depression. While this book does not go into detail as to what depression is and what can cause it, it instead focuses on what you can do to start feeling better.
Please share this information with anyone that you know!
I cannot tell you how many times I have heard
"I never knew he was depressed"
"That was the last person I would have thought to kill herself"
"He was the happiest person I knew"
I cannot stress to you how many people with depression are some of the greatest actors on earth. They hide their depression from everyone yet inside they feel this inner darkness and despair. Your friend, your neighbor or loved one may be depressed and you have no idea.
Why did I even begin to write books on depression? I am a Certified Nutrition Consultant, Board Certified in Holistic Nutrition and Herbalist. I also have a Masters in Social Work. I am the owner of Tru Foods Nutrition Services, LLC and I provide nutrition consults education and much more for my clients. But I was not always nutrition professional. In fact, I worked in geriatrics for many years.
Everything changed for me when my son fell into a deep depression. Help couldn't come fast enough and no one had answers, just medications and talk therapy. His life was good, so why was he depressed?
After returning to school for my nutrition certification, so much is clearer to me now. There are so many health issues that can cause and contribute to depression. Why does no one tell you this? Why do doctors not know this or share this?
Because of the path I have traveled with my son and watching him suffer for so long, I want to prevent others from traveling down that long path with so many dead ends. I want to make it easier for you or your loved one to get better and fast.
I am not going to lie-my plan is harder than popping an SSRI daily. It does take more time and more commitment. However I think most can agree that nutrition has an impact on our moods. If you don't address the root causes of your depression than your medication is only a band-aide and band-aides don't last forever.
This plan is not meant to treat, cure or diagnose. It is not meant to replace the care you are receiving from your health and medical professionals but rather to support and enhance it.
When people are depressed they often they think they need to see their medical professional and talk therapist. But who thinks "I'm depressed, I should see a nutritionist"!? Don't forget this very important and critical piece that can have a huge impact on your well-being.
If you are at risk of suicide please call 911 and your health professional right away.