Green Beans with Miso Sesame Sauce
This is an easy and quick weeknight side dish but is also "fancy" enough to serve to company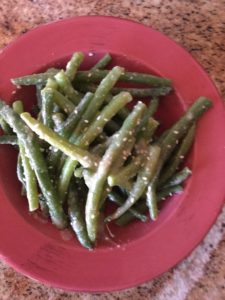 Ingredients
1 pound green beans with trimmed ends
¼ c. rice vinegar
2 T. miso paste
2 T. plus 1 tsp. sesame seeds
Directions
Steam the green beans in the top of a steamer pot with the lid on. When the water in bottom pot is boiling, reduce heat to low. Check the beans so that they do not overcook. Beans should only take several minutes.
While the beans are steaming, make the miso sauce. Grind 2 T. of the sesame seeds in a coffee grinder. If you do not have one, then place the seeds in a bag and run a rolling pin over them several times. Mix together the miso paste, rice vinegar and 2 T. of ground sesame seeds. Whisk well.
When the beans are cooked, place in a bowl and mix in the miso sauce. Sprinkle on the rest of the sesame seeds and serve.
If you are sick and tired of feeling sick, tired, fatigued, depressed, anxious and more and have given up hope then Karen's simple, effective, individualized and sustainable approach may be what you need.
Karen Brennan, MSW, CNC, Board Certified in Holistic Nutrition (candidate) is the author of Tru Foods Depression Free Nutrition Guide; How Food Supplements and herbs can be used to lift your mood and owner of Tru Foods Nutrition Services, LLC.
For more information visit her site at www.trufoodsnutrition.com
Get her Food Swap Guide here to get started on your health journey today! Want more information, then like here fb page here
As a nutrition professional, Karen does not treat, cure nor diagnose. This information is for educational purposes only.