How to get a days worth of vegetables into one meal!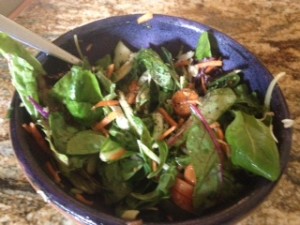 While in a perfect world we would get our veggies in at every meal and snack but the reality is few do. Here is an example of how to get as many veggies into one meal!
Salads: the easy way to get your veggie intake
I love salads! It is the easiest way to get your share of veggies. Here is what is in the salad in the picture as an example
dark leafy greens: I buy a box of mixed organic greens so that I get a variety
red onion (the darker color of the red onion versus the white onion means for more phytonutrients. Onions are also prebiotics)
asparagus tips (raw asparagus is a prebiotic which is essentially food for your probiotics)
cucumber (I buy organic so I can leave the skin on which will provide me with more nutrients)
shredded cabbage and carrot blend: I make it easy on myself and buy this in a bag which contains red and green cabbage.
carrots: we have a farmers share for the summer. Since I know my source I just slice them. Yup, leave some of the dirt residue on and leave the skin on!
pea pods, sugar snap peas: again, we have been getting them from the farmers share. Off season I buy them in the store.
Dressing: I use a high quality EVOO which adds a rich flavor to my dressing and makes all the difference in the world! I use this EVOO for mainly raw dishes. I add in balsamic vinegar, raw minced garlic and fresh herbs. I have herbs growing in pots on my deck so I just cut what I need. I chop up some basil, rosemary, thyme, cilantro and parsley and toss it all into the dressing.
And there you have it-one salad and I have just eaten fresh herbs and roughly 11 different veggies. If I had mushrooms I may have added this in. I grow my own sprouts but didn't have any ready for this salad. Sprouts are nutrient dense and contain protein. I don't eat many nightshades but otherwise I would have added in chopped pepper and tomatoes.
The salad in the picture is a bit smaller as most often I put my salad in a large bowl to make it the main portion of my meal. You can toss in proteins such as steak, seafood or chicken to make it a meal.
I just wanted to show you that it is not as hard as you think to get all your veggies in one day!
Enjoy!
Karen Brennan, MSW, CNC, author of the "Tru Foods Depression Free Nutrition Guide." and owner of Tru Foods Nutrition Services, LLC believes in food first when addressing root causes of your health condition. For more information, visit her website at www.trufoodsnutrition.com