Make a Great Gluten Free Cookie!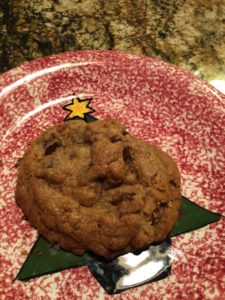 The holidays are upon us and if you have guests that cannot eat gluten, here are some tips to convert your favorite chocolate chip cookie recipe into a gluten free superstar cookie
Finally our first snowy day in Colorado this year! It puts me in the mood for a cup of tea and some baking.
While I don't recommend eating gluten free treats all the time, it is the holidays and you should also enjoy yourself (without overdoing it!)
My gluten free cookies are a popular hit and no one even knows they are gluten free. I admit, I make them way more than I should!
If you have a favorite chocolate chip cookie that you need to make gluten free for a guest during the holidays here are some tips
Gluten Free Cookie Baking Tips
Rule one: For cookie recipes, replace the all- purpose flour with a gluten free flour blend. Many companies make blends now but I prefer making my own as I think my recipes come out better (most people can never tell that they are eating a gluten free treat and my chocolate chip cookies are popular!)
Here is my blend:
2 parts brown rice flour
2/3-part potato starch (not flour!)
1/3-part tapioca flour
So, that could look like 2 cups brown rice flour, 2/3 cup potato starch and 1/3 cup tapioca flour. Whisk all this together and store in container until needed for your recipe.
Bobs Red Mill brand is a brand that can be found in most traditional grocery stores for your flours and for your xanthan gum too.
Rule Two: always add in xanthan gum. Typically for a cookie recipe it is one teaspoon xanthan gum.
Rule 3: Add in a bit more flour than what the gluten containing recipe calls for. Usually this amount to 2 tablespoons. For instance, if the recipe calls for 2 cups flour, I use 2 cups plus 2 tablespoons gluten free flour blend.
Rule 4: Adjust the amount of vanilla extract. Most cookie recipes call for 1 teaspoon-adjust this to one tablespoon. Don't use imitation, if you want the flavor to stand out. Use real vanilla extract.
What else to consider:
If the person you are making this for has a gluten allergy or is celiac, often (even if they don't realize it) they are also sensitive to dairy.
For this reason, I use chocolate that is gluten, soy and dairy free. There are a few brands out there that are quite good. I like Enjoy Life chocolate chip brand (I have no affiliation with them)
I replace the butter with Spectrum all vegetable shortening (again, no affiliation with the brand)
I use organic coconut sugar. While yes, it is still sugar, I prefer to avoid the GMO's in processed sugar.
I always chill my cookie dough before baking as I do not like super flat and thin cookies and that is what happens when I don't chill them.
Enjoy! Let me know how your cookies turned out!
If you are sick and tired of feeling sick, tired, fatigued, depressed, anxious and more and have given up hope then Karen's simple, effective, individualized and sustainable approach may be what you need.
Karen Brennan, MSW, CNC, Board Certified in Holistic Nutrition (candidate) is the author of Tru Foods Depression Free Nutrition Guide; How Food Supplements and herbs can be used to lift your mood and owner of Tru Foods Nutrition Services, LLC.
For more information visit her site at www.trufoodsnutrition.com
Get her Food Swap Guide here to get started on your health journey today! Want more information, then like here fb page here
As a nutrition professional, Karen does not treat, cure nor diagnose. This information is for educational purposes only.