Lemon Chicken
Gluten free, dairy free, paleo
(Adapted from celiac.com)
Serves 4
I love this dish-so easy to make for a weeknight dinner and taste so good! You probably have all the ingredients you need at home.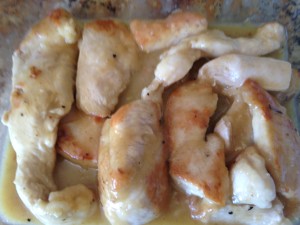 Ingredients
4 boneless chicken breast pounded thin (personally I don't do this-instead I slice my thick chicken breasts so that they are thinner)
¼ c. cornstarch, or potato starch (if using corn starch use non GMO brand)
½ stick grass fed butter or ghee if dairy free
1/3 c. dry white wine
2/3 c. chicken broth (even better-use homemade bone broth)
Juice of half a lemon (or bottled pure lemon juice)
½ t. fresh thyme minced (or dried if not fresh on hand)
s/p to taste
Directions
Dredge chicken into cornstarch and shake away excess
Melt butter in pan over med. Heat and add chicken
Cook 5 min. each side until golden brown
Remove chicken and set aside
In the same pan, add wine, broth, lemon juice, salt, thyme, pepper, and whisk until blended. Adjust sauce thickness as desired with water or additional cornstarch.
Bring to boil then return chicken to the pan. Lower heat and cook about 5 minutes
Serve with basmati white rice or cauliflower rice and a salad.
Tip: use the left over in a salad to take to work the next day or slice thinner and wrap in gluten free tortillas with veggies to pack for a school lunch.
Karen Brennan, MSW, CNC, Board Certified in Holistic Nutrition (candidate), author of the E book Tru Foods Depression Free Nutrition Guide; How Food Supplements and herbs can be used to lift your mood and owner of Tru Foods Nutrition Services, LLC believes in food first when addressing the root causes to your health conditions. For more information, visit her website at www.trufoodsnutrition.com