Cauliflower with Nutritional Yeast and Garlic
Ingredients
1 large head cauliflower

1-2 T. avocado oil

1 T. potato starch

1-2 T. nutritional yeast

s/p to taste

1 clove garlic minced
Directions
Preheat oven to 450. Line cookie sheet with parchment

Chop of cauliflower into small florets and place in bowl

Blend the rest of the ingredients together in a small bowl. Add in the cauliflower and stir to get the cauliflower coated with the ingredients. Spread the cauliflower onto your cookie sheet.

Place in oven for 20-30 minutes. At the halfway point in the time check on the cauliflower and give it a stir.
Note
Oven times vary so check that it does not burn. In my oven, I need about 22 minutes.

Nutritional yeast: I use the full 2 tablespoons as I like the flavor (has a cheesy taste). If you have never used it before you may want to start with one tablespoon.

Oil: depending on the size of the cauliflower head, you may need less or more oil. You be the judge.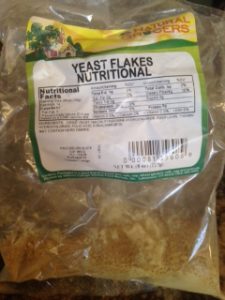 Nutritional Yeast Benefits: This is considered a "super food" or a "booster food". You only need small amounts to add to a food to give it a boost of nutrients. It provides extra protein and B vitamins to your food that you add it onto. Sprinkle it onto salads, veggies, popcorn, into rice and quinoa dishes and much more! It has a cheesy taste to it. It has also been shown to boost the immune system when given to athletes after workouts (immune system dips after strenuous workouts) You can find nutritional yeast in your local health food store. This is NOT the same as Brewer's Yeast!
If you are sick and tired of feeling sick, tired, fatigued, depressed, anxious and more and have given up hope then Karen's simple, effective, individualized and sustainable approach may be what you need.
Get her Food Swap Guide here to get started on your health journey today! Want more information, then like here fb page here
As a nutrition professional, Karen does not treat, cure nor diagnose. This information is for educational purposes only.